MILS® Low Location Lighting, LLL, 3L & Elmo® Motion Monitoring
When it comes to safety, the Marine segment is probably the most innovative industry of all, due to the complexity of different hazards onboard a vessel nowadays. As we all know, evacuating a building is not the same as evacuating a ship.

The Cruise Line industry continually breaks the records for capacity of passengers year after year, with a phenomenal new design concept as never seen before. We are following, by developing new solutions supporting our customers amazing ideas and concepts

The MILS® System & the Elmo® System, is the perfect solution for the Cruise Line industry, for them to continue building even larger ships, without having limitation for the complexity of safety, health, comfort and passenger flow.

Our focus is on Your customers. Our solutions are developed to improve:
Safety at Sea
Static & Dynamic Low Location Lighting
Passenger flow and energy optimization
Crowd Control Management (embarkation and disembarkation)
Healthcare at Sea (Security and Comfort of Passengers)
Stateroom/Cabin Management System
Watch the videos below and see how our solutions work on board:
MILS® Safety and Guidance Low Location Lighting
Optimize passenger escape route
Optimize passenger escape route starting e.g. from a stateroom to the muster station - by intelligent dynamic guidance and motion detection in real-time.
Discreet healthcare service
Discreet healthcare service and Stateroom Management System – by improving the comfort, health and wellbeing of passengers in real-time.
Overcome the Pre-movement and Travel Behaviour
Pre-movement and Travel Behaviour patterns during evacuation and how these is solved with MILS® & Elmo®.
Crowd Control Management System
Crowd Control Management System – by passenger flow optimization e.g. during embarkation/disembarkation or find your way to events

Additional material:

Brochure: See the world the MariElectronics way. M-IDGOS™ - Intelligent Movement Detection Guiding & Optimization Solution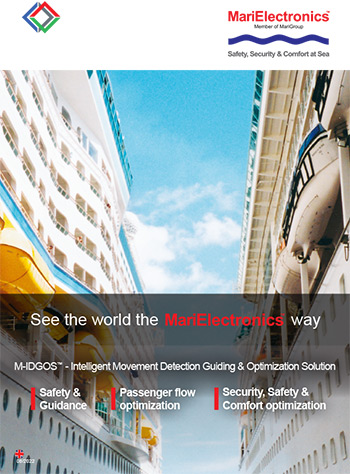 Brochure: See the world the MariGroup™ way

Contact details: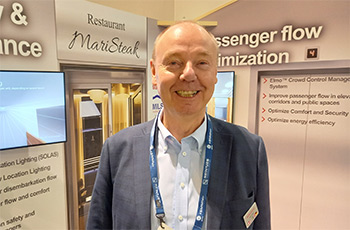 Palle Stevn
CEO
This email address is being protected from spambots. You need JavaScript enabled to view it.
+358 (0) 40 706 6716

MariMils (MariElectronics) is a part of MariGroup - a group of high-tech companies bringing smart solutions to life. MariGroup companies have been operating in marine industry since 1990´s. MariElectronics Oy is a parent company for MariMils® and MariCare™.